Here we go, another holiday season underway – and I'm rounding up the best Black Friday deals I can find for fabric, sewing, and quilting lovers.
Amazon has tons of deals of the day, and I spotted quite a few great prices on everything from sewing machines to a Silhouette Cameo 3 Craft Bundle
Black Friday, featuring up to 80% off supplies (spend $50, get $10 digital) Starting 11/23
Score sweet savings on Cricut Maker. Starting at $349 – Valid through 11/25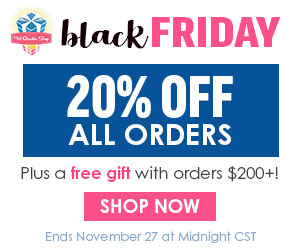 ***Note: this information is subject to change, as these promotions are for a limited time only***
Join in on Instagram with #sewingreportsquad! #sewcheap to share your best deals and budget tips! Be sure to tag me @sewingreport
WHAT I DO WHEN I'M NOT SEWING… JEN TALKS FOREVER CHANNEL
https://goo.gl/EkWQP2
FABRIC WHOLESALE DIRECT REFERRAL CODE: https://goo.gl/PdcuNr
* SEWING & QUILTING PRODUCTS: https://kit.co/sewingreport
NEED CUSTOM BUSINESS CARDS, STICKERS, PAPER PRODUCTS?
https://refer.moo.com/s/sewingreport
You'll love MOO! They've got awesome print products and cool design finishes. Get 20% off your first order!Join in on Instagram with #sewingreportsquad!
Talk to me: @sewingreport
Snapchat: sewingreport
Facebook: https://www.facebook.com/sewingreport
Instagram: http://instagram.com/sewingreport
Twitter: https://twitter.com/sewingreport
Pinterest: https://www.pinterest.com/SewingReport/
ABOUT SEWING REPORT:
Helping you discover your love of sewing at sewingreport.com through videos, articles, and tutorials. I'm Jennifer Moore – obsessed with sewing, and want you to be if you're not already. Come on in!
DISCLAIMER: This video and description contains affiliate links for several different programs. As an Amazon Associate I earn from qualifying purchases.